There's nothing dull about this boring innovation, available exclusively on Intermac's MASTER CNC machines, for creating chamfered holes in glass sheets. By integrating the drilling and countersinking operations, Helix enables dramatic reductions in machining times whilst achieving a flawless finish that is difficult to achieve with conventional CNC tooling.
It's never as simple as drilling a hole…
Sleek glass is a trending architectural and interior design feature, whether it is frameless shower screens, shelves, stairs, or balustrades.
For glass fabricators, one of the challenges when machining glass panels is the creation of bore holes for fixings such as hinges, handles, brackets, and clamps.
The hole has to be drilled and then chamfered at the top and bottom to smooth off any rough, jagged edges. On a CNC machine, this requires two separate tools: a drill and a countersinking tool (trapezoidal router). Drill tooling has to be specific to the diameter of the hole and the countersinking tool has to match the glass thickness. This means that when creating different sized bore holes in glass panels with different thicknesses, frequent tool size changes are needed.
Drawing on their combined expertise, Diamut, Biesse's tool manufacturing division, and Intermac have conceived a revolutionary new boring system unlike anything else on the market.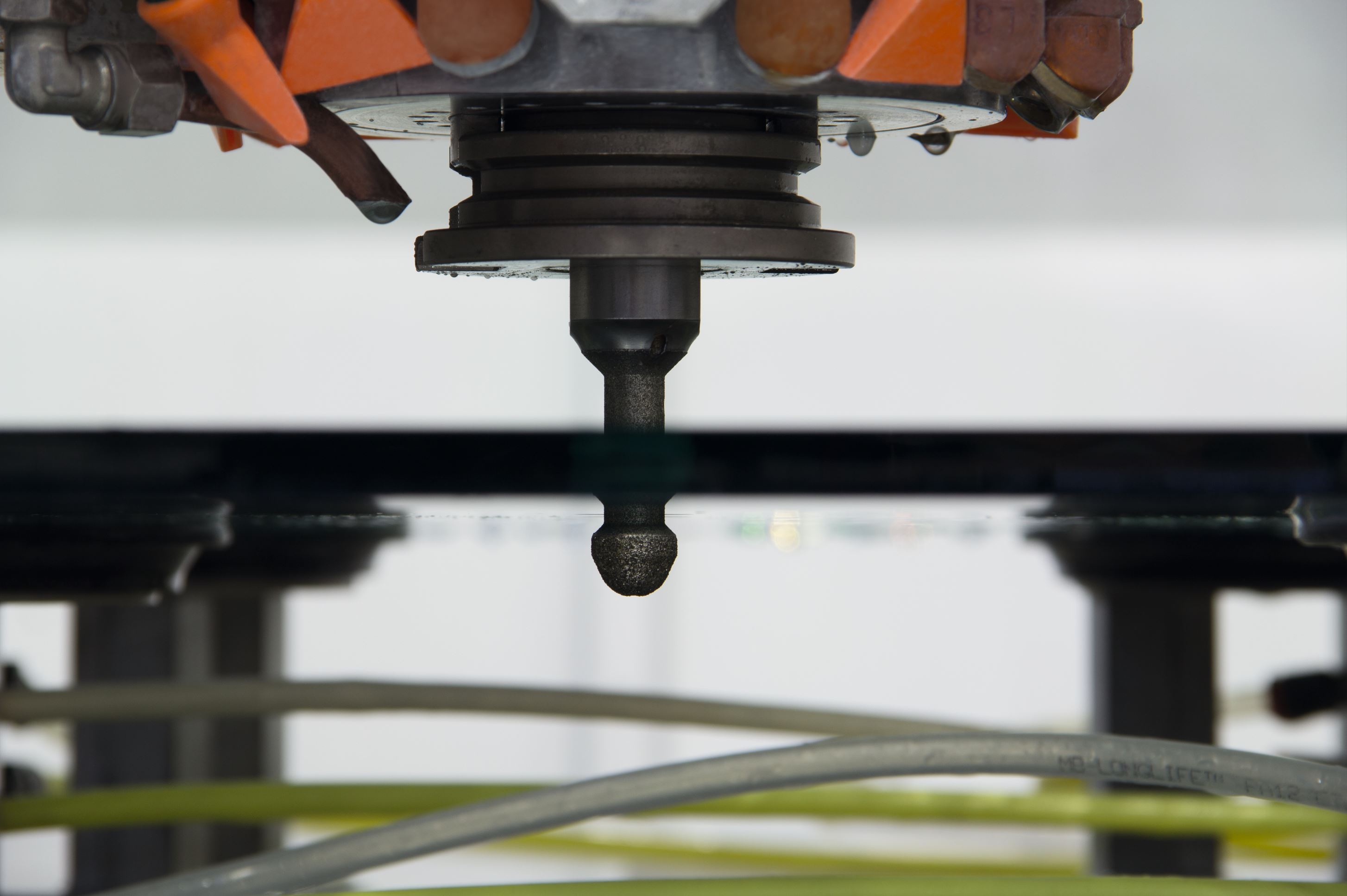 Holistic tooling solution saves time
Helix is an 'all-in-one' tooling system that combines the drilling and countersinking operations in one single tool, thanks to the convergence of hardware and software. Using one tool for a process that would usually require two separate tools in itself saves a considerable amount of tool changeover time; Helix delivers further efficiencies through its ability to accommodate a range of hole diameters and sheet thicknesses with just three tool sizes (small, medium, and large). This means that three Helix tools can replace up to 15 size-specific drill bits, rationalising tooling and further reducing the number of tool changes within the processing cycle. Helix can be used on glass sheets that are up to 19mm thick and can create holes with any diameter between 7 and 28 mm.
Helical tool path
The key to Helix's operation lies in the geometry of the tool and the action it employs to drive through the glass sheet. The descent of the tool is no longer vertical but - as the name suggests - helical. First of all, the radiused part of the tool grinds the glass to create a bore. Once the drilling step is complete, lateral grinding takes place; spinning and rotating, the tool enlarges the bore to the desired diameter. Lower and upper countersinking complete the cycle, producing a hole with a smooth, chamfered finish.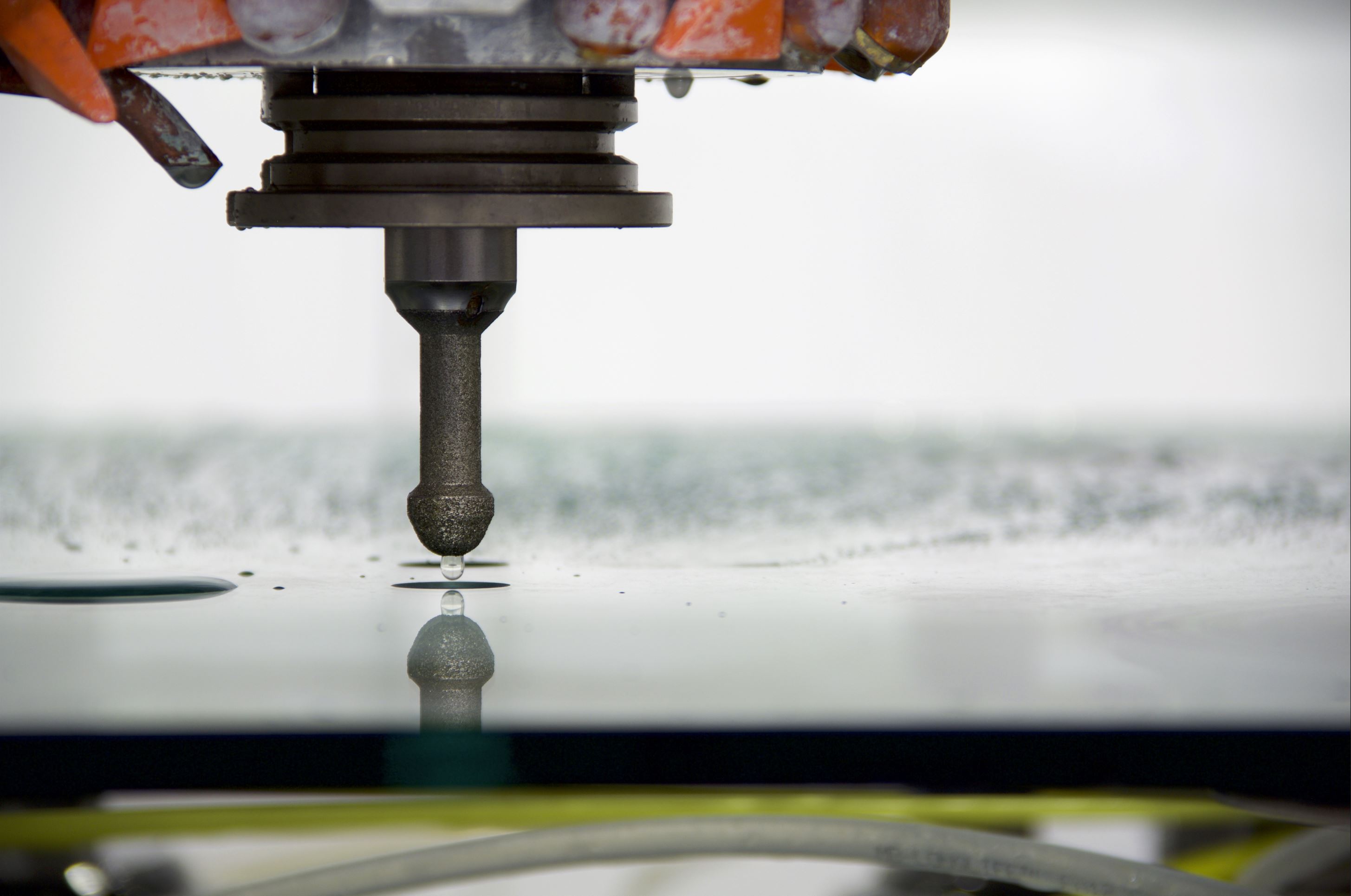 No more shelling out for damage
As well as minimising tool changeovers, the Helix overcomes an issue known as 'shelling', which can be a major source of wasted time and costly materials in glass processing.
Shelling (splintering and chipping of the glass around the edge of the hole) is a common problem when using a conventional drilling tool on a CNC machine. If the shelling is minimal, it can be eliminated with a countersinking tool, but if it is extensive, the sheet ends up as waste. To avoid this problem, some glass processors transfer the workpiece onto a dedicated drilling machine to create the bore hole. The trouble with this solution is that it involves moving a large piece of glass from one machine to another, which takes time, introduces a risk of breakage and is less than ideal from a manual handling perspective.
Thanks to its unique action, the Helix is the answer to all of these issues. Because it grinds rather than drills the glass, it never results in any shelling. By guaranteeing a perfect finish every time, the Helix gives CNC users full confidence in their work centre's ability to perform drilling operations, allowing them to harness the inherent flexibility these machines offer.
Find out more on the diamond drill bit.
See the Helix Technology in action.